Images from the firmware deepen the mystery of the Samsung GT-i9200
8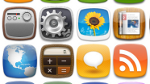 Last week a
tweet
leaked word about a mysterious handset called the Samsung GT-i9200. With similar model numbers to the Samsung Nexus S (GT-i9020) and the Samsung Galaxy 2 (GT-i9100), the hope was that this would be a high-end model. While nothing has changed to kill off that dream, references in the firmware to a Hummingbird processor and an 800 x 480 display brought forth the notion that the mystery phone has a lineage that goes back to the Galaxy 2 line.
Pako7, a member of the Xda-developers forum, dug into the firmware and extracted some images including a large number of icons, screens of a camera interface and the virtual keyboard. If some of the icons look familiar, it is because they were on the screen of a phone photographed on a
questionable product information sheet
. The handset in the picture is allegedly an undisclosed Samsung flagship model for the first half of 2011. Many of you called this a photoshopped fake as the phone looks suspiciously like the Apple iPhone 4, right down to the spot where the two antennas meet. Hopefully some more information will develop that will give us a better idea about the Samsung GT-i9200.
source:
Xda-developers
via
AndroidandMe