If Flappy Bird does come back, this right here is a much needed modification
12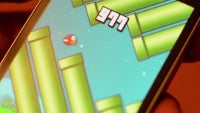 After a month long hiatus,
yesterday
we found out that Flappy Bird creator, Dong Ngyuen, is now considering pushing his title back online for the masses to enjoy. Unlike most other outlets, however, we're not as intent on getting Ngyen to break his silence, and we're actually more concerned about the gameplay of the original.
You see, in the time since the game was pulled off the iTunes and Play app stores, the thousands of clones have been steadily taking away from the appeal of what is otherwise a pretty repetitive game. Sure, it is kind of hard, and it likely is the reason for the demise of many a smartphone, and yet we feel like it can get a little stale, and it's just not hard enough once you reach a certain level. After all, the game is about as challenging ten minutes in as it is five seconds in, and that's just not good enough.
Luckily, somebody, somewhere, came up with a much better idea of what the difficulty slope should be like with Flappy Bird, and we just can't help but wish that Ngyuen would consider making these much-needed
improvements
to his work seen right below.