ION smart glasses keep you up to date with your phone, control your devices, ask for your money
Smartglasses are a technology of the future that is not there yet, but that everyone wants to try to make. ION Glasses is a new smart glasses project that keeps the glasses low-profile while still delivering some smart functions.
ION does not have the tiny screen of Google's Glass - instead there's an LED light that you can customize to notify you about new calls, messages, mails and social updates, and there are two keys to control your devices wirelessly. The main functions are:
- Don't miss notifications
- Control your techs
- Don't loose your glasses or smartphone
- Customize
The big plus of ION is just how unobtrusive and incospicuous the frame is. It's stylish, and does not look awkward at all - actually, it's hard to distingiush the ION frame from regular glasses.
The project now asks for your funding to become a reality. The goal is set at just $150 000, and as a backer you can reserve a frame for merely $79. With 48 days to go, you have plenty of time to decide and back it yourself.
ION smart glasses keep you up to date with your phone, control your devices, ask for your money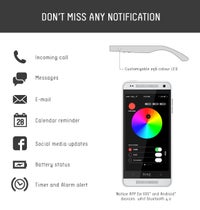 source:
IndieGoGo