IEEE forms Alliance to help standardize wireless charging
1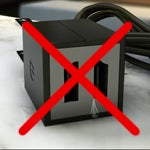 So it turns out that the weeping Motorola power cord heralded the Droid RAZR MAXX with its over-sized battery and spectacular 21 hours of talk time, rather than a new wireless charging product. Fear not, those of you who hate having to plug in; Tech Crunch is reporting that the Institute of Electrical and Electronics Engineers (IEEE) has formed an alliance to create standards for future
wireless charging
products. The alliance will be named the Power Matters Alliance.
Details are scarce, but at least two members of the Power Matters Alliance are known,
Powermat Technologies
and Duracell. Powermat CEO Ran Poliakine expressed great enthusiasm, stating
"The wireless revolution of recent years has highlighted the need for a new approach to power; the only thing preventing us from enjoying the freedom of a truly wireless world is the power cord. Powermat Technologies is pleased to be collaborating with the IEEE to develop a new paradigm for power."
Duracell president Stassi Anastassov also addressed the need for new charging solutions, citing the shorter and shorter times between battery charges seen in mobile devices over time. While some companies are researching new technologies to improve battery capacity, or even replace current lithium-ion batteries with
hydrogen-powered fuel cells
, wireless charging products have the possibility of benefiting a wider range of products (and therefore consumers), especially if the technologies behind it are made into industry standards, which would make it impossible for one company to corner the market with their patents.
This is one of those news stories that will fly under the radar with all of the new product announcements this week, but has the potential to have a much larger impact on our lives in the next year or two. Here's hoping!
source:
Tech Crunch