IBM shows first working 7nm chips
15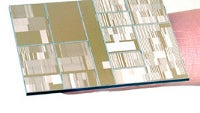 We've been hearing about Moore's Law coming to an end for quite a while (and
some even argue that it has effectively already come to its demise
), and while that seems inevitable at a certain point in tim, IBM has just delivered some great news by showing the first working versions of 7nm chips.
The new chips are made from wafer that uses silicon-germanium rather than pure silicon, and theoretically allows building microprocessors with over 20 billion transistors. Yes, this is nearly four times as many transistors as we have on today's computers. Putting the 14nm process on a scale, it compares with tiny biological structures: a strand of DNA, for instance, is 2.5nm in diameter.
The 7nm process comes as the next step after the 10nm node (set for introduction on devices late next year with Intel's Cannonlake), while currently the most advanced chips in actual consumer devices are made on a 14nm manufacturing with Intel leading the way in traditional computers and Samsung with its Exynos 7420 used in the Galaxy S6. Each new generation of chip manufacturing carries a 50% decrease in the area of the chip at a given amount of circuitry.
This latest breakthrough is not the sole effort of IBM: it comes as the result of a consortium led by IBM, but also with the participation of New York State, GlobalFoundries, Samsung and others who have carried on this push in wafer manufacturing. Other companies are also pursuing the advanced, 7nm manufacturing node: the Taiwan Semiconductor Manufacturing Company (TSMC) plans to roll-out pilot production in 2017, but it has not shown a working prototype yet.