Humor: Video unboxing of Microsoft Surface pays humorous homage
7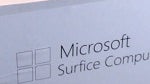 It is days away from shipping, but Microsoft's Surface is unboxed…or is it?
Admit it, as much as a pain it once was, Windows operating systems of the past are a part of our culture and still the source of many funny or tragic stories as well as still feeding many ongoing jokes. How many of us remember the days of Windows 3.1, the "blue screen of death," or heaven forbid, WindowsMe.
So enjoy this gentle jab at the perception of Microsoft from "back in the day" where a fake Russian accent, clunky hardware, sparks and little smoke make for a good chuckle. Will that be a four, or six year contract?
source:
Puppet Shed