Humor: The "New iPhone D" is the perfect phone to have when you're drunk
5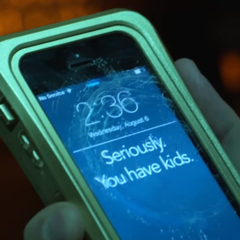 iPhone parodies can be quite fun to watch (see
here
, or
here
), and the latest could certainly put a smile on your face. Made by Above Average, the new parody - embedded below - introduces the "New iPhone D", a handset made for "drunk a**holes."
The iPhone D is waterproof, and has a "pre-scratched" screen - because you're going to drop the handset and scratch/break it anyway. You can't really lose this iPhone, as it comes with, uhm, a leash that keeps it tied to your wrist. The iPhone D automatically shuts off after 1 AM to prevent drunk calling. Moreover, Siri will always understand what you want, even if you can't really pronounce all the words when asking for something.
As you'll probably notice, in reality, the iPhone D is nothing more than an iPhone 5 housed in a huge, ugly case. In all seriousness, a waterproof iPhone that you can't lose, and always understands you, would be great. It looks like Apple is actually working on that, or at least
on the waterproof part
.
source:
Above Average
(YouTube)