Humor: Cortana and Siri mix it up, Lakers fans won't be happy, and don't ask for a sandwich
35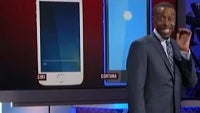 Arsenio Hall is back on TV in case you weren't paying attention, and he was excited over the news about
Microsoft's introduction of Cortana
for Windows Phone.
Of course, the mere existence of Cortana sets the stage for all sorts of comparisons to Siri, some serious, and others…not. It should be no problem guessing which path Arsenio took the idea on his show.
Cortana does have quite a bit more inflection to its voice, and at least for now, it has some more interactive small talk to it. The AI engine is far more advanced though, as Cortana is able to learn and unlearn your likes, dislikes and other habits of use if you let it. Siri is not designed to do that, at least not yet.
So, when Arsenio asks Siri for help finding an outlet that sells basketball tickets, specifically for the Los Angeles Lakers, the digital assistant finds dozens at the ready. When he asks Cortana to put a game on the calendar, the digital assistant, sensing the Lakers' horrific win/loss record (25-53), offers to watch a train wreck instead. You can see where the rest of this bit will go.
It's all in good fun, until one of them chooses to bring a knife to a gunfight. Who knows, hopefully we will see Siri get a boost at
WWDC
this summer. In the meantime, it comes down to basketball, sandwiches and maps.
source:
The Arsenio Hall Show
(YouTube) via
WMPoweruser