Humor: Apple Maps are accurate, just not in our world
16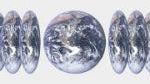 There has been no shortage of news about all of the problems people have been coming across in
Apple's new Maps
app in iOS 6. We've seen a couple of theories on
why the Maps
are so troubled, and a new video has another theory on it: parallel worlds. It's not the craziest idea we've heard.
The video is pretty funny, and brings up something that we would love to see become reality sooner rather than later. The premise is that the new iPhone is powered by the Q6, a quantum processor. Quantum computing is still a dream right now, but it's one of those technologies that you just can't help but get excited about. The potential is huge.
Of course, there have been some huge strides in quantum computing recently, so we may see it come to pass. It still doesn't explain the mess that is iOS Maps, but it's a fun thought.