Huawei reinvents the Ascend P7 with sapphire glass display and ceramic back panel
10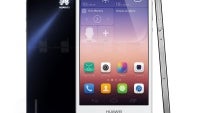 Once again, the rumors spelled true - Huawei has upgraded its 2014 flagship Android smartphone, the Huawei Ascend P7, with a durable sapphire glass display! Although it didn't manage to land the bragging rights to being the first to have one - after all, Japan's Kyocera beat it to the punch with the
rugged Brigadier
- Huawei is the first to make a sapphire glass phone that's also superbly attractive!
In addition, the Ascend P7's back panel has been reinforced with a ceramic, which is definitely tougher than the regular glass covering previously found on the phone. To top it all off, the Ascend P7 is also available with its metal frame painted a new rose gold color.
Premium materials aside, the Huawei Ascend P7 remains the same quad-core, 1080p, 13MP flagship smartphone with a 5-inch display and slim design. Huawei hasn't given out the pricing and market availability for the sapphire version yet, but you can safely bet the house that it's going to cost quite a bit more than the regular variant due to the materials in its construction. Also, we just felt like saying it - did Huawei just pour oil in Apple's sapphire ambitions' fire or what?