Huawei Watch gets priced - premium Android Wear for the tag of a basic Apple Watch
18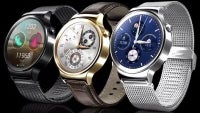 The
Huawei Watch
is an Android Wear device that comes in three distinct colors and styles - Gold, Silver, and Black. They have different bands, and each watch has 40 different watch faces to choose from. The circular AMOLED display is 42mm in diameter, which Huawei thinks is unisex, and its resolution is a sexy 400x400 pixels. This clocks in at 286ppi at a high 10,000:1 contrast ratio.
The Huawei Watch is forged out of stainless steel and has a 2 o'clock press button for interaction. It charges from an inductive charging stations. Speaking of hardware, this is another Snapdragon 400, 512MB RAM Android Wear device that relies on Bluetooth 4.1 connection to a smartphone. The smartwatch also has a heart rate monitor, a six-axis motion sensor, a barometer, and more sensors - thanks to which, users can monitor their calories burned, heart rate, climbing height, step count, distance travelled, and such.
How much for this Android Wear warrior. Well, it seems that
the rumors about how expensive it is going to be
aren't justified, as it just popped in Germany for EUR 350, or EUR 400 for the golden version - those are the starting prices of the cheapest Apple Watch Sport edition with the rubbery bands, after all.