Huawei Watch GT and Huawei Band 3 Pro: AI on your wrist, unbelievable battery life
10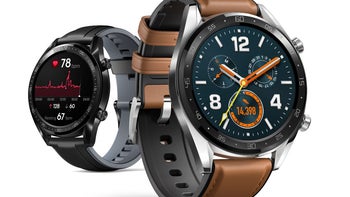 Huawei has just announced a bunch of interesting new devices — the Mate 20 and Mate 20 Pro take center stage, of course, but there's also this interesting new Huawei Watch GT. It's the company's latest smartwatch and one that branched away from Google's Wear OS and now uses a homemade operating system. What are the benefits of that and what does the Watch GT have in store for us? Let's take a closer look:
Design
The Huawei Watch GT has a very pleasant, classic design. The body is round, slightly bulky, and made with 316L stainless steel. There are two crowns on its side for software navigation, and a ceramic bezel, standing as a bold accent on the front. Unlike the smartwatches of the past, you won't be ashamed to be seen wearing this, either in a business or casual setting.
The display up front is a 1.39-inch AMOLED panel and the heart rate monitor on the back has a 4-dot pattern, reminding us of the cameras on the new Mate 20 phones. The stock leather and nylon straps are clamped to the watch via a quick-release mechanism and it looks like it'll be easy to find 3rd party straps to switch styles if you so wish.
Functionality
Smartwatches have pretty much found their niche by now — they are still devices for the slightly tech-enthusiastic user out there, but they do need to have a good look and style, so they are a viable daily accessory. On top of telling time, they offer useful health-tracking features for the ones that care about their activity levels, and they will deliver notifications discreetly on your wrist, so you can keep your phone on silent throughout the day.
Instead of going with Google's Wear OS, which should have a seamless integration with the Android OS on one's phone, Huawei made its own operating system — OS Lite. As the name suggests, it's supposed to be a light and snappy software that doesn't burden the watch's hardware or battery too much.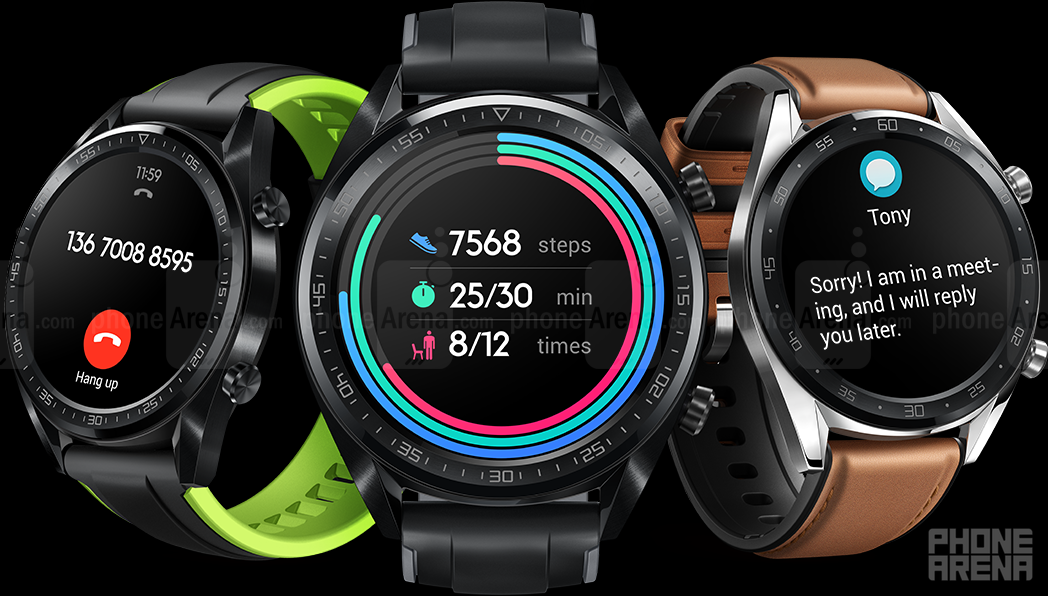 According to Huawei, the Watch GT can last for about 2 weeks on a single charge, which sounds insanely impressive. The company quotes 22 hours of battery life with continuous exercise tracking, GPS, heart rate monitoring, and always-on screen. Alternatively, if you turn off messages and calls, the heart rate monitor, and the GPS, you'd be able to squeeze out 30 days out of the Watch GT's battery. A full month on one charge? We can't wait to test that out...
Everything has AI, everyone can join
Of course, we can't have a 2018 product without AI-assisted features on board. The Huawei Watch GT's TruSeen 3.0 heart rate tech will use self-learning algorithms to improve its heart rate monitoring accuracy as it spends more time with one user. There's also an intelligent sleep quality monitor, and an AI energy consumption algorithm that will work to achieve the aforementioned long battery life. The latter will analyze your usage and location, predict whether you will be needing the watch right now or not, and dynamically switch between a power-saving mode and a performance mode, all done in the background.
There's a wide number of workout types supported — from swimming to mountain-climbing — and the Watch GT will offer a coaching mode. It will continuously analyze the user's heart rate and guide them through their workout with health and safety in mind.

The Huawei Watch GT will sync with both Android and iOS devices, you only need to download the Huawei Health app off of your respective app store. However, the watch itself is walled off from 3rd party developers — there are no plans for 3rd party apps at all. Granted, it'll probably be pretty hard to attract devs to this brand-new, Huawei-made wearable operating system in the first place.
Huawei Band 3 Pro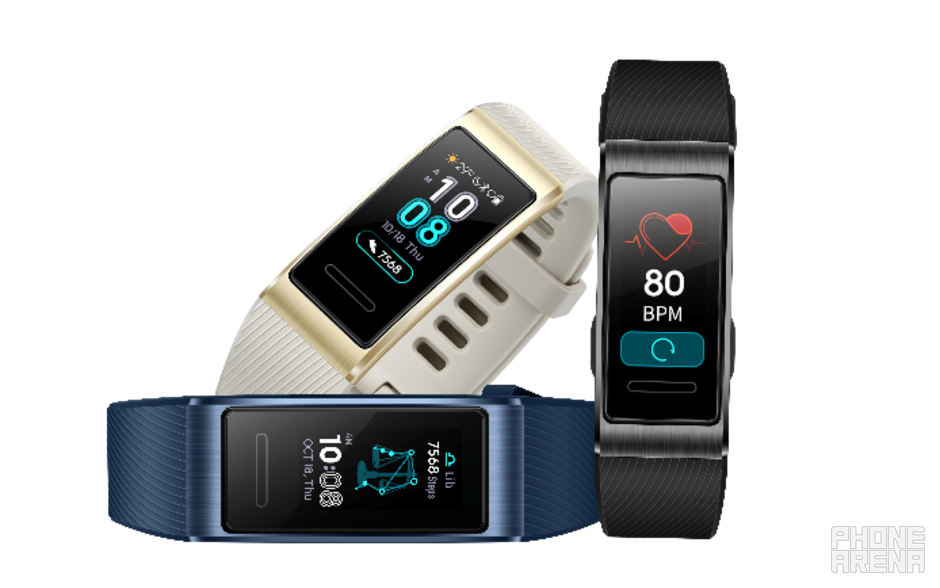 For those that are not after a fancy-looking watch, but just want the fitness-tracking capabilities, Huawei has announced a new Band 3 Pro. It's a smartband with a 0.95-inch AMOLED touchscreen on top. It will use the same AI algorithms found on the Watch GT — with TruSeen 3.0 for upgraded heart-rate accuracy, and a new TruSleep 2.0 sleep-tracking service. The latter will help you learn about your own sleep patterns and use big data to offer various tips on how to improve your sleep quality.

Price and availability
The Huawei Watch GT is available in Classic (leather band) and Sport (silicone band) variants. These will launch in Europe for €249 ($289) and €199 ($230) respectively. No word on US availability, which only figures, considering Huawei's woes with the US regulators last year.
Recommended Stories