Huawei P20 Plus leaks out in full: notch like on iPhone X and triple camera setup
32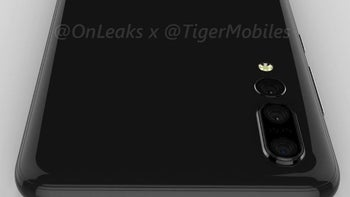 Huawei's next flagship phone - the Huawei P20 Plus - has leaked out in detailed renders that show it from all sides, revealing an iPhone X like design with a notch and an innovative triple camera system.
The images come from @onLeaks, a person with a nearly spotless track record in leaking phones, but there is a catch: the images that you see here are just one of two Huawei prototypes. The main difference between these prototypes is the presence of the home button: on one of the prototypes the home button is a physical key below the screen, while on the second one there is no home button at all. It's not yet clear which of the two prototype models Huawei will go to and what you see here is the model without a home button (but the company may well release the one with a home key).
The Huawei P20 Plus is expected to feature a thin and narrow, 2:1 design with a minimal bezel. Its physical size has also leaked out:
Dimensions: 155.3 x 74.2 x 7.7 mm approx (9.8 mm including the camera bump)
Display: roughly 6-inch (leakster warns it's hard to say exactly because of notch and curves)
On top of the P20 Plus, there are two notable elements: the headphone jack and what looks like an IR blaster.
The big highlight of the Huawei P20 Plus, however, will clearly be that triple camera system. Huawei traditionally uses a dual camera system, with the secondary lens usually a monochrome lens that works together with the main one to capture more detail and light at night.
Will the company keep this setup and a third one? And what will that third one be: a telephoto lens? A wide-angle camera? There are no answers to these questions just yet.