Huawei P10 and P10 Plus officially unveiled: sleeker designs, refined cameras, more oomph
30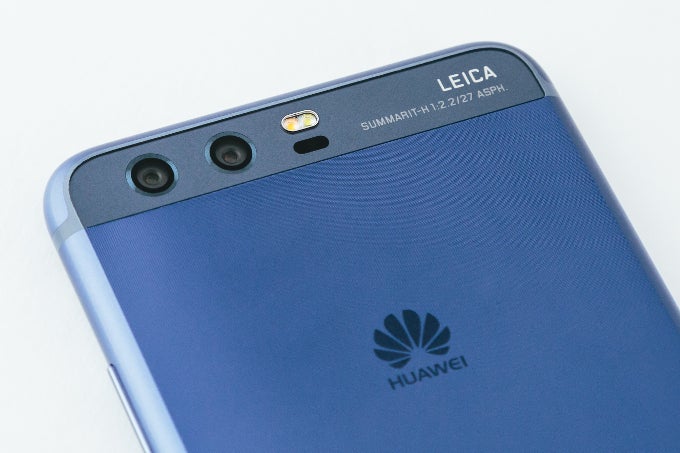 The Huawei P10 and P10 Plus have just gone official, entering the stage as the new flagships for Huawei in 2017.
The two new phones feature sleek new designs with an improved dual camera system made in collaboration with Leica.
Huawei also puts a lot of focus on the style and color choice of the new P10 and P10 Plus. It has developed a few impressive color options: the refreshing, reinvigorating 'Greenery' color and the more mysterious 'Dazzling Blue' option, along with more traditional black and silver colors.
Huawei
P10
Huawei
P10 Plus
Platform
Huawei Emotion UI 5.1
Android 7.0 Nougat
Huawei Emotion UI 5.1
Android 7.0 Nougat
Dimensions
145.3 x 69.3 x 6.98 mm
145 g
153.5 x 74.2 x 6.98 mm
165 g
Display
5.1" Full HD
Gorilla Glass 5
5.5" Quad HD
Gorilla Glass 5
Processor, RAM
Kirin 960 (4x A73, 4x A53)
4 GB RAM
Kirin 960 (4x A73, 4x A53)
4 GB / 6 GB RAM
Storage
64 GB
+ microSD
64 GB / 128 GB
+ microSD
Camera
12MP color + 20MP monochrome
Leica f/2.0 rear cameras
8MP front
12MP color + 20MP monochrome
Leica f/2.0 rear cameras
8MP front
Battery
3,200 mAh
3,750 mAh
Special features
Huawei Super Charge
Huawei Super Charge
Huawei has collaborated with Leica again to improve the camera on the P10 and P10 Plus in the new Leica Dual Camera 2.0. Both phones feature a dual rear camera setup, with a 12MP color camera and a 20-megapixel monochrome (black and white) camera. You can use them separately, but you can also get a nice depth of focus effect in the camera app that smartly combines information from these two color sensors.
Under the hood, the two phones are powered by the Huawei Kirin 960 system chip, an in-house built chip that sports four powerful Cortex A57 processor cores that take care of more intense applications, and four power-efficient A53 processor cores used for daily tasks. The phones ship with at least 64 GB of on-board storage, a plentiful allowance, and there is a microSD card slot for expanding that memory. A new Huawei Ultra Memory solution optimizes memory storage, preventing your phone from slowing down when you get more content on it.
This new system chip powers the latest Huawei Emotion UI, version 5.1, built on top of the modern Android 7.0 Nougat.
Camera: better Portrait mode and bokeh
We've already mentioned that there is a new dual-camera system on the Huawei P10, but it is the software that really makes these two new phones stand out. Huawei has built in a brand new Portrait mode that will add those creamy, blurred backgrounds to pictures that will make people stand out. This new bokeh mode is much improved from Huawei's earlier efforts and is available to use with both the color camera, but also with monochrome pictures, that get a really timeless look to them. Portrait mode is also applied to the front camera. In both cameras, Huawei applies some clever algorithms to ensure skin color is accurate and good looking, while the bokeh effect has that natural vibe to it.
Better battery life
The Huawei P10 also beats the iPhone 7 and the Galaxy S7 in terms of battery life. Regular users will get a 1.8 days of battery life on a single charge, while heavy useres will get more than 1.3 days, which beats the iPhone 7 by a small margin and the Galaxy S7 by a larger margin, according to Huawei. The P10 Plus is getting even better battery life figures. Both phones also support fast charging speeds, so you can quickly recharge.
Price and release date
The Huawei P10 family release date starts from March 2017, when the two devices will be rolled out in the following markets:
Australia, Austria, Chile, China, Columbia, Denmark, Finland, France, Germany, Greece, Italy, Malaysia, Mexico, Netherlands, New Zealand, Norway, Peru, Philippines, Poland, Russia, Saudi Arabia, Singapore, South Africa, Spain, Sweden, Thailand, Turkey, UAE, United Kingdom, and Vietnam
The Huawei P10 and P10 Plus price is set as follows:
€650 for Huawei P10 (64 GB storage with 4 GB RAM)
€700 for Huawei P10 Plus (64 GB storage with 4 GB RAM)
€800 for Huawei P10 Plus (128 GB storage with 4 GB RAM)