5G Huawei Mate 20 X coming for those of you that don't want a foldable phone
6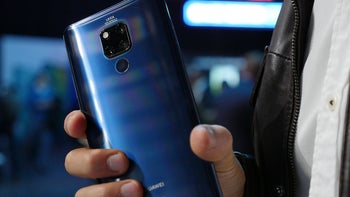 The 4G LTE Huawei Mate 20 X model
This past weekend Huawei announced its first 5G smartphone, the
foldable Huawei Mate X
. But as it turns out, the company also has a regular 5G device
on the way
for consumers that aren't willing to spend over $2500 on a phone.

The device in question will be a special 5G variant of the ginormous Huawei Mate 20 X which was announced last October. Presumably, Huawei chose this model over the Mate 20 Pro and upcoming P30 series because of its large 7.2-inch display. After all, 5G network speeds are set to benefit media consumption drastically.
On the inside, the
Huawei Mate 20 X
features the company's own Kirin 980 chip. Performance-wise, this chip sits somewhere between the Snapdragon 845 (OnePlus 6T, Samsung Galaxy Note 9) and the Snapdragon 855 (LG V50 ThinQ, Samsung Galaxy S10). The smartphone also boasts 6GB of RAM and a very respectable 128GB of internal storage.

If you choose to purchase this phone, Android 9 Pie straight out of the box paired with the EMUI 9 overlay is to be expected. The device also packs a massive 5,000mAh battery which also supports 22.5W fast charging, although there isn't any wireless charging support.

As for the Huawei Mate 20 X 5G's release date, no specific date has been provided yet but a release sometime during the second quarter is to be expected. No pricing details have been announced either. However, the current 4G LTE version costs €899 ($1,022) across most of Europe so a 5G version will likely cost in the region of €1,000 ($1,137).
Recommended Stories