Huawei Mate 10 is the company's next big flagship and it has just leaked out
17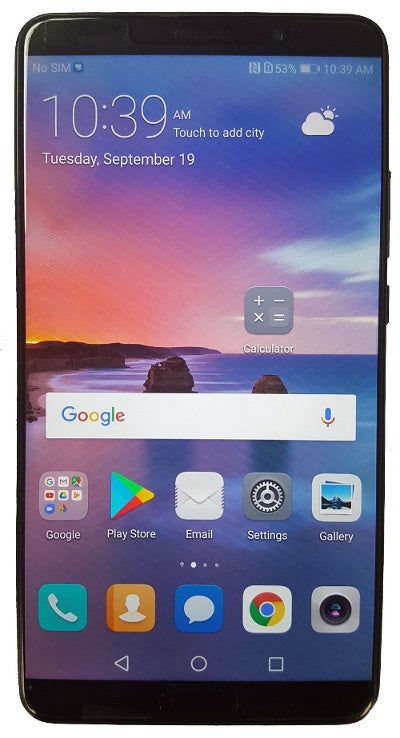 Huawei Mate 10 leaked picture
The
Huawei Mate 10
will officially be unveiled in nearly a month, on October 16th, but it has already leaked out, thanks to prolific leaker Evan Blass.
The Mate 10 is the company's big phone, a bit like the Note is to Samsung (but without the stylus) and it was expected to become the company's first 'bezel-less' design, but this leaked picture shows that it does have both a small chin and a forehead. The side bezels are tiny, though, and overall the screen-to-body ratio of the Mate 10 is definitely very high.
The Mate 10 is expected to come with a brand new, home-made Kirin 970 system chip that will support a significantly faster dual camera (with a secondary monochrome shooter) and will allow Huawei to step into artificial intelligence (AI) computing.
The phone is also said to run on Huawei's custom EMUI interface on top of Android 8.0 Oreo, which could make it the company's first Oreo based handset.
Other specs include a 5.9-inch display, a 3.5mm headphone jack, a USB-C port, 6GB of RAM and 64GB of native storage. A Mate 10 Pro version with slightly higher specs is allegedly also in the cards.
The Mate 10 has a new processor that is all about faster camera and better AI
Huawei is not a company that is particularly popular in the United States, but the Mate series are available unlocked in the US, so chances are this new phone will also come stateside. Across the globe, Huawei's popularity has grown a lot in the past year or so, and the company overtook Apple in unit sales in the past quarter and is aiming to overtake Samsung as the world's most prolific phone maker.
And right above are some earlier leaks and renders of the Huawei Mate 10.
So what do you think, are you planning on getting yourself one?
Recommended Stories