Huawei Honor 6 Plus hands-on
4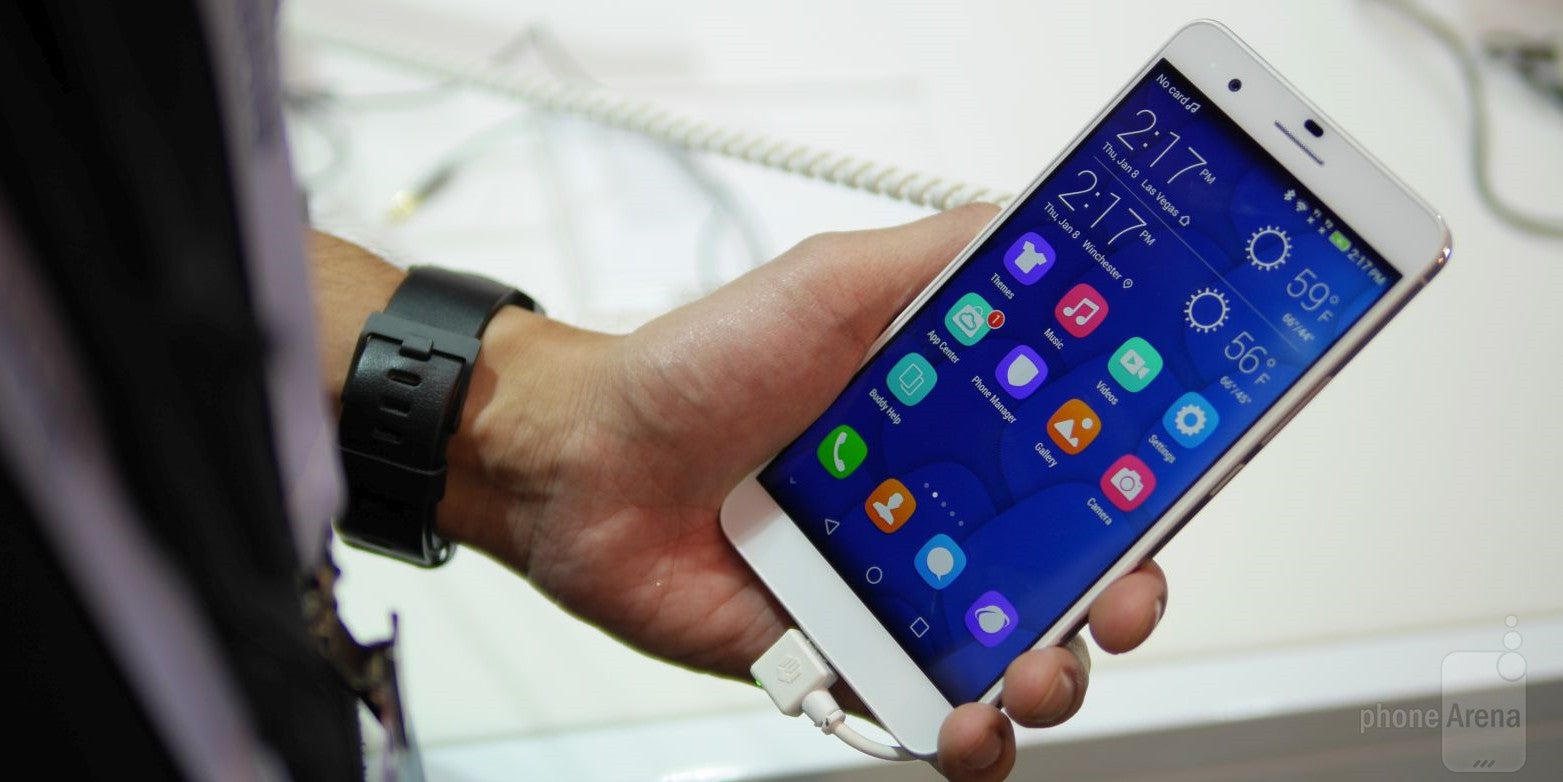 Huawei didn't make any major smartphone announcements during CES 2015, but that didn't stop us from checking out one of its newest smartphones – the Huawei Honor 6 Plus. Everything about this smartphone screams top-notch, as its specs sheet is riddled from head-to-toe with cutting-edge hardware to compete against its distinguished rivals. What separates it, though, is the dual 8-megapixel cameras on the back, which like the HTC One M8, is given the power to adjust focus post-shot.
Design
From the onset, there's a substantial feel to the design of the Huawei Honor 6 Plus. Interestingly, its design language reminds us of a larger sized version of the iPhone 5/5s, since it's uniformly flat on both the front and back. Sandwiching everything together is a metal band around the sides of the phone, which is broken up at several different areas – thus, mimicking the iPhone 5/5s design. However, instead of using metal, the Huawei Honor 6 Plus employs this glass-like material over its front and rear.
Display
The Huawei Honor 6 Plus features a 5.5-inch 1080 x 1920 IPS "
Neo
" display. It's attractive looking, naturally, since it boasts sharp visuals and slightly saturated looking colors to catch our attention. Moreover, there doesn't seem to be any visible distortion at wide angles – so it maintains its clarity with that. As much as we would've liked to see this one push the boundaries by offering Quad HD resolution, 1080p is still good enough to give it a sharp touch.
Interface
Huawei's customized Android experience running on top of Android 4.4.2 KitKat is heavy in the visual department, which is most notable by looking at several different widgets in the homescreen. One of them in particular, the music player widget, draws our attention more than the other because of its dynamic animations. Tilting the phone causes the sensors inside to dynamically change the look of the widget, which naturally tells us that there's a lot of processing power to do on the fly.
Processor and Memory
Speaking of processing power, the Huawei Honor 6 Plus is powered by a 1.8GHz octa-core Kirin 925 chipset coupled with 3GB of RAM. The tandem manages to deliver an astoundingly swift performance, as the dynamic animations of the UI reflect its needs for a processor that can keep up with all sorts of operations. Our quick inspection so far leads us to believe that it can handle even the most strenuous of operations, but we won't know for sure until we can run some serious games and tasks on the phone.
Having 32GB of internal storage, that's more than plentiful to appease a wide range of users. Best of all, that tally can be supplemented by its microSD card slot!
Camera
Surely different from most of the pact, the Huawei Honor 6 Plus is distinguishable for the dual 8-megapixel cameras in the back of the phone – where it can capture 13-megapixel snapshots. One of the cameras feature f/2.0 aperture and auto-focus, while the sidekick one has f/2.4 aperture and a fixed focus setup. With the tandem, the Huawei Honor 6 Plus enables us to take a photo, and then go back post-shot to adjust the focus to wherever in the shot. The process is quick and simple, as we're able to just simply perform touch focus post shot to emphasize certain areas of our shots. Needless to say, it gives the smartphone that professional touch!
Expectations
As much as we'd be delighted to see this one come to the US, it's only currently available overseas in China. However, if you're really tantalized by this beast of a smartphone, importing it will only cost you around $400 at the most to pick up. Based on its specs and features, the Huawei Honor 6 Plus is one of those high-end phones that we'd hope someday make its way stateside to give Huawei's reputation a boost.