Huawei G520 will be a quad-core smartphone for China at only $225
7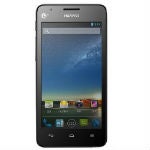 We've seen a few high-powered Android handsets that are going to be on the market in China this year, including a couple from Lenovo, but there is an interesting new entry in the mix with the Huawei G520. It's not exactly the highest-powered smartphone, but it will have one impressive feature: the price, which will be just $225 for the quad-core smartphone.
In order to hit that price point, Huawei did make a few very important cuts on the hardware. That quad-core SoC isn't a name brand chip, but rather a Mediatek MT6589 running four A7 cores at 1.2GHz. That might not be such a problem though, if it weren't for the fact that the phone will also only feature 512MB of RAM. The RAM is the biggest issue, but the last cut is in the camera, which will be just 5MP. The display is 4.5", but no word on the resolution. The G520 will be running Android 4.x, but no word exactly what flavor.
Huawei is looking to rebrand itself
as a high-end Android device manufacturer in the USA, so we won't hold our breath that this will make the jump across the Pacific, but it will go on sale in China on January 21st.