Huawei consumer CEO says, "Steve Jobs is gone. Now there is a lack of innovation"
29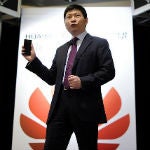 You have to give some credit to Huawei consumer CEO Richard Yu, he definitely knows how to build a headline, doesn't he? Today at CES, Yu said, "Steve Jobs is gone. Now there is a lack of innovation." But, Yu wasn't done with just dropping Steve Jobs' name to get some attention. He also went on to call out Samsung for not using high end materials, saying "their plastic is cheap".
Of course, he was also very ready to explain why you should look to Huawei to find a new wellspring of innovation, using his attention catching phrase to lead into the usual marketing talk about Huawei's new
Ascend Mate
and
Ascend D2
. Yu started out by saying that Huawei is the best company as far as design because of two reasons: 1) it mixes Asian and European design, and 2) it has spirit.
"We're a globalized company, so that's why we can do better. And behind all that, we have our spirit. It's very important."
But, Yu did admit that it will take time for US carriers to accept high-end devices from Huawei, because the company does have a reputation for making lower-end devices. He does think the newly announced devices will be a big part of that, even if some people are scared of the size of the
6.1" display on the Ascend Mate
. Being the good company man, Yu said that the device was "more comfortable than the Galaxy Note" because of the design, and the one-handed mode available for the keyboard.
What do you guys think? Will Huawei be able to break into the high-end smartphone market?