Huawei CEO: Not surprised US spying on company
22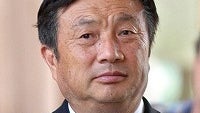 The founder and CEO of Huawei, Ren Zhengfei, says that he was not surprised when he learned the NSA was spying on his company.
He further stated that such measures would not damage Huawei's reputation among the company's reputation or its relationship with its customers.
According to reports back in March
, documents that were disclosed by Edward Snowden showed that the NSA had an operation called "Shotgiant" aimed at Huawei.
Shotgiant was the NSA's push to get email correspondence, trade secrets, and source code of Huawei products. Huawei is the world's third largest smartphone maker and the world's second largest maker of networking switch gear, equipment that powers many country's telecom and internet infrastructures in Europe and Asia.
"This monitoring behavior of the United States is within expectations. It has just been proved," said Ren Zhengfei, "The business we are doing with our customers is built on a mutual understanding between our customers and ourselves over the last two to three decades. Therefore, those things going on will not, I believe, have any impact on doing business with us."
Huawei has effectively been blocked by lawmakers from doing much business in the United States, based on reports and investigations that the company was a security threat to critical infrastructure,
does not observe trade restrictions
, and that it basically was an
espionage aid to the Chinese government
. Huawei's CEO retired from the People's Liberation Army in the 1980s, and set up Huawei a short while later.
The concerns over his company, he believes, will pass over time, "It might take 10 or 20 years for the United States to know Huawei is a company with integrity. We may have opportunities then." The issues of Huawei's security concerns and business practices have been a veritable "he said, she said" type of exchange.
Huawei is no worse for the wear, Ren cited the company had revenues of nearly $40 billion last year and expects that figure to double by 2018.
source:
Reuters