Former CIA chief has seen "hard evidence" of Huawei spying on behalf of China
33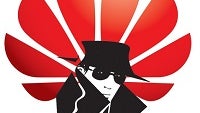 Michael Hayden, who used to head the Central Intelligence Agency, the National Security Agency and is also a retired United States Air Force general, said in an interview with Australian Financial Review (AFR) that Huawei had shared "intimate and extensive knowledge" of the telecommunications infrastructure it is involved in with the Chinese government.
AFR also reported that General Hayden has seen "hard evidence" of spying activity performed by Huawei, the world's second largest telecom equipment manufacturer, on behalf of the Chinese government.
Hayden is on the Board of Directors of Motorola Solutions (the part of Motorola that Google did not buy) and it has been in ongoing intellectual property disputes with Huawei for years. Hayden also said that he was approached by Huawei to join its American Board, but
"God did not make enough slides on Huawei to convince me that having them involved in our critical communications infrastructure was going to be OK. This was my considered view, based on a four-decade career as an intelligence officer."
Huawei's Global Security Officer and former UK Government official, John Suffolk, issued a statement saying that the allegations were "tired" and challenged Hayden or anyone to present evidence, "It's time put up or shut up." However, Hayden says that Huawei has fallen short of passing any litmus test to convince him otherwise,
"These guys are not even transparent to themselves. There's no transparency around who appoints the board or who controls the ownership of the business. And there's no independent Chinese government oversight committee that could give us confidence that Huawei would not do what they promised not to do."
It is a significant blow to Huawei, having a high-profile individual "in the know" publicly state mischievous activities and claim that evidence exists to back it up. It also does not help when
Huawei has been linked to selling embargoed gear to Iran
and running one of its telecommunications networks.
In the meantime, Congress has admonished US companies to not do business with Huawei, the British government has announced that it is going to review security infrastructure at a security center operated by Huawei in southern England, and Australia has barred the company from bidding on a multi-billion dollar National Broadband Network.
source:
Australian Financial Review
Recommended Stories