How well do you know the HTC HD2? Find out next week!
9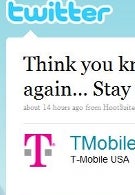 Even if you're the type of cellphone fanatic that remembers when the HTC HD2 was the Leo, it is possible that you don't know everything about the Windows Mobile device. In fact, T-Mobile U.S.A. is pretty sure that they know something about the HD2 that you don't know and is planning on releasing some more info about the phone next week. In a tweet sent out by the carrier, the underlying message was that some piece of news-whether it be the exact launch date, the price, some new upgrade to the specs-is going to be revealed next week. The last time we
reported
on a launch date, March 24th was the expected day for the U.S. debut of this highly awaited handset.
The stunning 4.3 inch capacitive touchscreen has hypnotized many a cellphone buyer, even those in America who simply watched a video of the HD2 in action. Will T-Mobile U.S.A. be releasing some information about the model, like those old style articles in "16" and "Tiger Beat"? (The HD2's favorite color is blue and it prefers smart girls. The Handset's favorite food is bytes of data). Whatever information is revealed by the nation's fourth largest carrier, it's sure to whet the appetite of those who passed up on the latest group of Android releases just to pick up the HD2.
HTC HD2 US Specifications
|
Hands-on
source:
Twitter
via
TmoNews