How well did the Motorola Moto X do against the keys, hammer and knife test?
9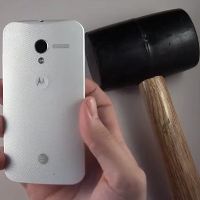 Anyone who has ever held the
Motorola DROID
in his hand knows that the manufacturer can build a
tank-like
device that feels as though it can survive a nuclear blast. Which bring us to the
Motorola Moto X
. Does this new model have what it takes to survive a strenuous day of getting nicked by keys and loose coins? Could the Moto X survive being sat on while it resides in your back pocket?
Gorilla Glass protects the Moto X screen from scratches just in case you momentarily become senile and mistake the phone for a scratch-off lottery ticket. The good news is that your Moto X screen is well protected in this regard. The back casing held up fairly well, although there were some marks made by the key. The sides of the phone were scratched although the marks were not that visible. Judging from the results of this part of the test, it looks like the Mototolas Moto X is pretty much safe in your pants pocket.
Let's replace the keys with a knife. The front screen held up well but the back and the sides sustained some damage that was visible to the naked eye. And that takes us to the hammer, or mallet if you prefer. After some pretty vicious hits, the Motorola Moto X held up pretty well although the casing did end up with some marks. And we cannot stress enough that after taking some heavy hits, the phone was still in working condition.
As far as all the tests were concerned, the screen performed the best, thanks to the Gorilla Glass. After that, the back of the phone did okay although it was damaged. Finally, the side of the Moto X got beat up pretty badly by the knife and mallet. If your average day consists of walking with your phone in your suit pocket getting nicked by coins and keys, you should be alright with the Moto X. If your average day includes the possibility that you might take a few whacks at your Moto X with a mallet, you might want to keep your phone at home until the 5:00 whistle blows. Or, better still, find a new job.
Thanks, Anonymous Tipster
source:
PhoneBuff