How to use the graphical sound equalizer on the Microsoft Lumia 950 & 950 XL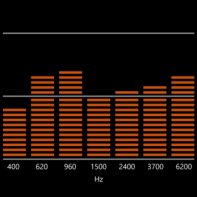 Although not many know about this, the Windows 10 Mobile OS offers a built-in audio frequency equalizer. In this article, we'll show you how to use the audio EQ on the
Microsoft Lumia 950
and
Lumia 950 XL
, the current Windows flagship handsets, but the same principle applies to all Windows 10-based smartphones.
Before detailing how to use the EQ, we'd like you to bear in mind that there's more you can do with an EQ besides boosting the bass all the way up to distortion. Below, we've attached a (simplistic) chart that shows how popular instruments sit in the frequency spectrum. Bear in mind that boosting EQ bands associated with these instruments will make them appear to be louder in the mix while cutting the EQ bands will make them more subtle.
One essential detail to bear in mind is that each music genre has its own spectrum fingerprint, which is heavily determined by the instruments usually pertaining to a certain genre. In essence, this means that one EQ setting might work well for Jazz music, but not as well for bass-heavy genres.
Now that we know what the EQ can do for us, it's time to put it to good use on the Microsoft Lumia 950 or
Lumia 950 XL
. Note that the same steps apply for most other Windows 10 Mobile Lumias:
Step 1.
Go to Settings->Extras.
Step 2.
Go to Equalizer
Step 3.
Select each one of the 6 included presets and listen to how the music changes.
Step 4.
Select the preset you like the most.
Step 5 (Optional).
If you want to manually tweak the EQ, create a custom preset. The chart that we've included above will come in handy at this point.