How to use the browser, take notes, or play music while on a call with your Android phone
9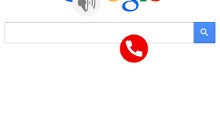 We've all been there - suckered in the customer complaint calling system of our credit card provider, or simply stuck in a boring conversation with a yappy relative. Alternatively, we all have moments when we need to get in the browser, and check something online quickly while in a call, jot down an address, or maybe play that new favorite tune to the caller on the other side.
While some interface overlays have separate note-taking option in the call screen, for instance, a lot of them don't. Plus, we still want to do much more with our handsets while phoning, than taking notes. Fret not, as it is pretty easy to multitask with any Android handset while in a call, here's how:
1. Perhaps you didn't know, but you can still use the home key (physical, capacitive or virtual), while in a call, and get to your phone's interface, where you can do business as usual. The active call itself, is now conveniently
tucked into the status bar
at the top of your screen. You can do whatever you need to do with your phone, then pull the bar down, and return to the call, end it, or turn the speaker on/off, depending on the individual interface.
2. There are some apps out there that take multitasking one step further than having to fiddle with your status bar, which is not even visible in some apps.
Blimps
, for instance, is a new
floating app
, that lets you end the call, or turn the speaker on and off, regardless of what you are doing with your phone. It features a two small circular buttons, that "hover" above anything else underneath, so you can juggle quickly between speaker and earpiece modes, or end the call when you are done, all the while you are perusing the phone as usual.
If the buttons get in the way of a specific section in an app interface, you can freely move them around, and the developer promises more features are on the way. It's a fresh new floating app, that swiftly grows on you while in a call, so check it out with the download link below, if you are interested to take it for a spin.
| | |
| --- | --- |
| Developer: Curly Y. | Download: Android |
| Category: Communication | Price: Free |