How to upload your desktop photo/video collection to Google Photos
5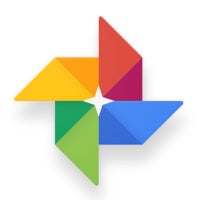 This is a short how-to article that details the process of installing the Google Photos desktop uploader and have it upload your photo/video collection to the platform.
You've probably heard that Google Photos recently evolved past a photo collection app for Android devices into a separate Google product. You can now use Google Photos across iOS, Android, as well as in the browser. For more details on the capabilities of the platform, check out our
previous post here
.
There's no doubt that Google Photos has become overnight a fierce competitor in the photo platform market. Unfortunately, if you didn't previously have an Android smartphone with Google+ automatically backing up your photos, chances are that your current photo collection is currently nonexistent. Fortunately, Google offers a neat desktop app that can upload all the photos and videos you have stored locally to the service.
This process works in the same way on both Windows and Mac OS X. The screenshots are taken on a Windows 8.1 laptop, but the same basic steps will apply independent of your operating system.
Step 1
. Go to the
Google Photos desktop app download page
. The first time you visit the website, you'll be taken through a short introduction of the service. Once that's done, click the "Desktop Uploader" button in the left-hand side of the page. The website will detect your OS and download the appropriate installer.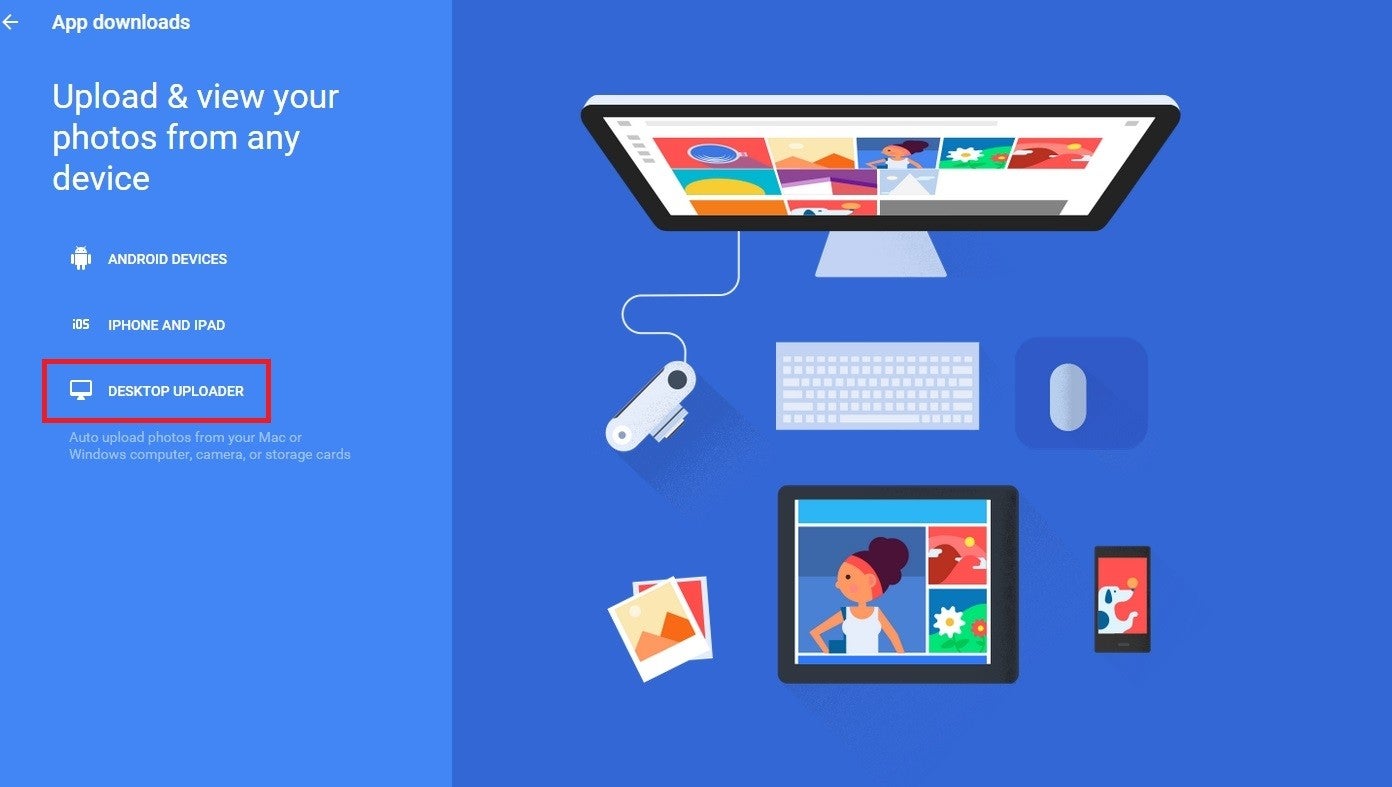 Step 2.
Launch the installer that you've previously downloaded, agree to the terms of service, and log into Google Photos using your Google account credentials.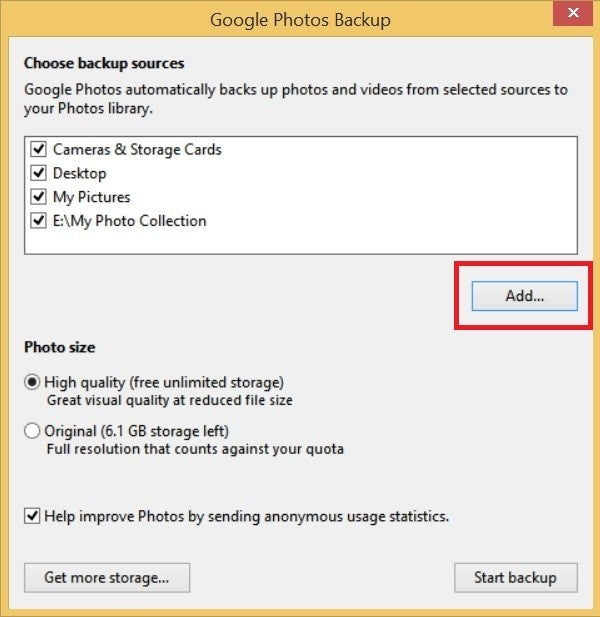 Step 3
. The desktop uploader will now ask for what directories to upload to Google Photos. It will automatically select a few folders as well as any potential cameras or storage cards, but you can choose to add other folders as well.
This is also where you'll have to select the resolution. You can upload unlimited photos using the high-quality setting, which resizes the image to 13MP and also compresses it a bit. If you're not paying Google for Drive space, this is the only option for large collections.
If you want to upload photos in their original quality, the size of your photo collection will drain from your Google Drive quota.
Step 4.
Now wait for Google Photos to upload the files. Depending on the size of the photo collection and the upload speed of your network, this may take from a few minutes to a few hours.
If you ever want to stop backing up a folder or your storage devices, click on the Google Photos icon in the tray, go to options, and uncheck folders as needed.
There you go, now your photos and videos are safely backed in Google Photos. Your data will remain private until you decide to share it with other people, so don't worry if you've accidentally uploaded an embarassing photo.