How to update your Motorola DROID X to Gingerbread
25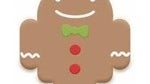 Over the past few months, there has been several
leaked interim builds
of
Android 2.3.3 Gingerbread for the Motorola DROID X
, but last week
Verizon stated
that the final version would be made available on May 27th. What wasn't disclosed is that it was being rolled-out to Motorola "Soak Testers" first to try out. Everything must have been OK with those private testers, as we've recieved word that regular
customers are now receiving the Gingerbread over-the-air update on their DROID X starting today
.
Before you install the update, make sure that you are not using a leaked Gingerbread build, as the phone needs to be running stock Android 2.2.1 Froyo, System Version 2.3.340 first. You can check this by going into the Setting and clicking About Phone. If your DROID X is showing that it is on System Version 2.3.340, you can
proceed with the official Gingerbread update
by doing one of the following:
Select

System Updates

in the About Phone menu, and the device will download the 112MB file and automatically install it.

This is the recommended method

. Since it is a large file, you may want to do this over Wi-Fi so it takes less time to download.
(

PROCEED WITH CAUTION

) The second option is to

manually download the update.zip file

on your PC from here, and then copy it to your phone's memory card in the root directory (do not place it in a folder). Then turn the phone off. The next step is to press-and-hold-down the Home key and Power key at the same time. Do this unit a yellow exclamation mark (!) appears on the screen. Then release those two keys and press the Search key. Use the Volume keys to highlight "Apply update.zip" on the screen and select it by pressing the Camera key. This will install the Gingerbread update.zip file. Once it it done, reboot the phone.
You can verify that your DROID X is running the official Gingerbread build by going to Settings/About Phone, and it should show the System Version 4.5.596, Android Version 2.3.3, Baseband Version BP_C_01.09.12P, and Build Number 4.5.1_57_DX5-26.
There are a lot of improvements in the Gingerbread release, which you can view
here
. The main advantage is the
increase in overall speed and performance
. Before upgrading to Gingerbread most DROID X phones would score between 1200-1300 on the Quadrant Benchmark app, but after the update the scores will be close to 1700.
If you install the Gingerbread update on your Motorola DROID X, let us know what you think about it by using the Comment section below.
Thanks to
MyDroidWorld
for posting the update.zip file!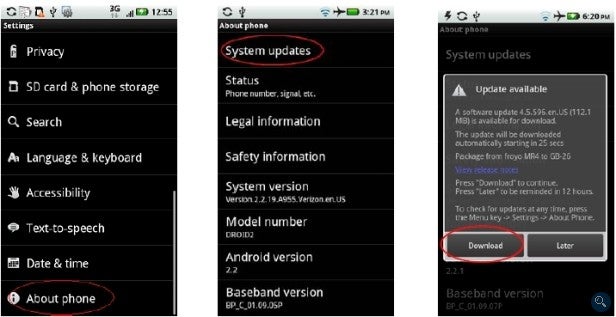 Recommended Stories