Gingerbread update to DROID X and DROID 2 leaks on the web
13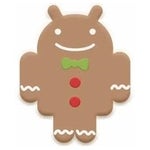 It was only about a month that separated the launch dates of the Motorola DROID X and the Motorola DROID 2 when they hit the shelves last summer. At the time, the smartphone tandem stood at the top of Verizon's Android lineup and even today both devices still seem to get the job done for many of their owners. A software update, however, is always more than welcome, and it looks like one has silently surfaced on the web.
The Android 2.3 Gingerbread update to both smartphones has leaked and is available for download to everybody who is willing to try it out before its official release. Besides the numerous improvements that Gingerbread will add to the Motorola DROID X and the Motorola DROID 2, a revamped version of the MotoBlur interface is also bundled with the update. Unfortunately, nobody has released a rooting method for the new software version, but it should be only a matter of time before that happens.
Note that updating the software yourself may pose a risk or two, especially if you have not done it before, so be careful if you choose to try it out. There is always a slight chance of you bricking your smartphone so if that is a concern for you, it may be advisable to hold on until the update's official release from Motorola/Verizon.
source: MyDroidWorld (
Droid 2
), (
Droid X
) via
Android Central