How to ungroup iOS 9 app notification alerts, and display them in the order received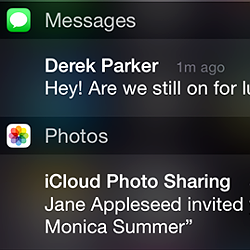 The freshly-released
iOS 9
now allows you to ungroup the default alerts in the notification center from their app-centric display, to a more convenient chronological order. Ever since the Notification Center was concocted a few iOS editions ago, it displayed the alerts grouped by the apps they originated with, splashing your screen with redundant Gmail messages, for instance, while you were looking for the latest text message there to preview.
In any case, iOS 9 now gives you the option to ungroup this app-centric view in the Notification Center, and reassemble them by the order they are received, so your most recent alerts are always front and center, instead of constantly being pushed out by app groupings. Here's what you need to do to get to the chronological alerts view on your iOS 9-laden device:
1. Go to Settings>Notifications;
2. Choose "Recents" as the sort order in notification view;
3. Turn off the "Group by App" slide switch, and your notifications will be rearranged from the app grouping order you see in slide 2, to the chronological order in slide 3.