How to type fast on your smartphone (Android, Windows Phone, iPhone)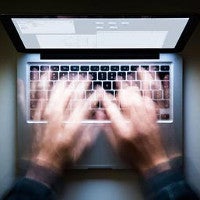 Some of you will likely have heard this one before, but it's an interesting bit nevertheless: Did you know that when Apple released the original iPhone back in 2007, BlackBerry execs were mostly unmoved by the threat we now know it represented? That's right, and more to the point, they made sure to draw attention to what they felt was a feature Apple had all wrong – the software keyboard. Fast-forward to today, and it becomes obvious that the iPhone was onto something.
This is not to say that software keyboards don't have their problems. Whether it's the lack of tactile feedback or something else completely, it's fair to say that a very big part of the consumer base has trouble typing correctly, let alone quickly. So much so that we're willing to bet that at least some of you have wondered if they can do something to not only make the process more bearable, but also to increase the rate at which you churn out words and send them flying to the other side. Luckily, we know of at least two ways you can achieve that, and we'll be sharing both with you. Best of all, they're pretty much universally applicable, regardless of whether you're using an iPhone or an Android/Windows Phone handset.
Interested? Of course you are – you use your darn smartphone 24/7 and could do with a little less hassle. Jump right in!