How to take a screenshot on Apple's iPhone 7
19
The Apple iPhone 7 comes with a brand new Home button that no longer physically clicks: you might not have even noticed, though, as it still gives a very solid feedback that mimics the feeling of a physical click. Turn off the phone, though, and you will see that the Home button does not actually click, but the 'clicking' sensation actually comes from a clever vibration that comes off from Apple's vibration motor, the 'Taptic Engine', built inside the iPhone 7.
How to take a screenshot on iPhone 7?
So you might be wondering: with this new button, how does one screenshot an iPhone 7's screen?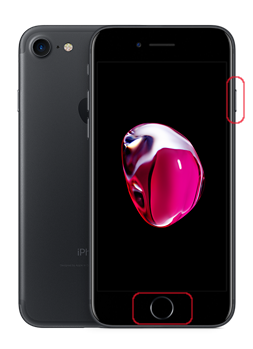 Simultaneously press the Lock key and the Home button to take a screenshot on the iPhone 7
Here's how to take a screenshot in just two steps:
1
. Hold down the power/lock key and the Home button simultaneously.
2
. You have to apply pressure with your finger towards the Home key, so that it is a forceful touch rather than just a light tap.
3
. You will hear the familiar click, the screen will blink white for a moment, and the screenshot will be saved to your camera roll.
That's it! In fact, taking a screenshot is the same as on older iPhones, with the only new thing being the non-moving home button.