How to tag, pull lyrics or album art, and organize music on your Android phone the easy way
5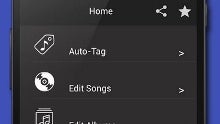 We've all been there - throwing random tunes folders from our computer to our phone quickly before a road trip, or dumping all our collection "just in case" we are in the mood to listen to one particular song there at any given time. The thing is that in this day of cheap storage and automatic search indexing rarely someone cares to sift and sort, let alone tag and pair with album covers and stuff. Thus, our collections are coming from various sources, not always well organised, and certainly not always with album art and lyrics to go with, as it's too time consuming to do this. This same mess gets thrown to the phone, too, or is already there, if you download MP3, FLAC , M4A and MP4 audio files on it directly.
How do we bring them all in line without spending too much time on it? Thankfully, there are apps for that that can do it the easy way.
Music Tagger
is new and fresh, and will organize tunes for you both automatically if you let it, or you can update tags and download art and lyrics manually. The app, which is still in beta, actually uses an audio recognition technology similar to
Shazam
to automatically recognize and tag your tunes, including multiple ones at the same time. Here's what you need to do to put order in the music chaos on your device, in a handy video tutorial - the process takes a while, but is totally worth it.
Recommended Stories