How to register more than 3 fingerprints on a Samsung Galaxy Note 4 or Galaxy S5
9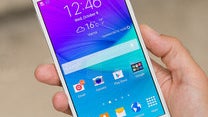 One of the many perks you get with a
Samsung Galaxy Note 4
or a
Samsung Galaxy S5
is a fingerprint scanner embedded in the home button. Its main purpose is to replace your lock screen PIN or pattern, but it can also be used to securely sign into web sites, to verify PayPal payments, and to log into your Samsung account. However, the fingerprint scanner on these two phones does have its limitations – you're only allowed to register three fingers for use with it. At least that's what the phones' maker wants you to think. In this quick and easy tutorial, we'll teach you how to register more than three fingerprints with your Galaxy Note 4 or Galaxy S5.
You don't need any special apps for this trick to work. You don't need root access or anything of that sort either. You just need to register multiple fingers in a single fingerprint slot.
Start by going to Settings > Finger Scanner > Fingerprint Manager. "You can register up to 3 fingerprints," a disclaimer reads. Just ignore it.
Hit the plus sign to add a new fingerprint. You will be asked to swipe the scanner 10 times with a single finger so go ahead and do that. At this time, it is very important to not perform the same swipe over and over again. Instead, try to scan slightly different areas of the same finger, including the tip and the sides. Adjust your grip between swipes.
After the 10th swipe, you'll be allowed to register 10 more swipes for increased accuracy. Tap on the "Register" button. Now you may start swiping the scanner with a different finger. Again, try to make every swipe slightly different.
At the end of the process, you should have successfully registered two fingerprints under the same slot. Repeat steps 2 and 3 to add more fingerprints.
We should make it clear that you don't have to switch fingers after the 10th swipe. Technically, you may register 4 fingerprints with 5 swipes for each under a single slot. Or 19 fingerprints and a scan of your nose, if you wish to. We wouldn't recommend doing any of this, however, as the less swipes you register for a single finger, the less accurate the scanner will be, and the scanners on the Galaxy Note 4 and Galaxy S5 aren't among the most accurate ones already.