How to reduce the UI transparency and bright-color intensity of your iPhone or iPad
1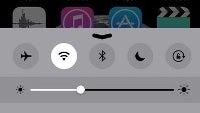 Imagine you've just popped in bed with the good intention to browse your social network of choice on your iPhone and stay up-to-date with the rumor mill before you fall asleep. Naturally, you'd most probably manually set the brightness to the lowest level possible (or rely on iOS to automatically do so and care for your eyes), but even this might turn out to be as bright as a noon-day sun to your aching-for-sleep eyes.
Well, did you know that there's a relatively well-hidden feature in iOS that allows you to set the brightness of your iPhone/iPad even lower? We bet some of you didn't!
Of course, we will show you the ropes on how to enable this feature. In fact, Apple's iOS 8 has a majority of other accessibility features that aim to make life easier for those users who have certain types of visual impairment. Then again, some of these might turn out to be quite useful even for iOS users who have never cared what's inside the accessibility menu of their iDevices.