How to put Google on your new Samsung Fascinate without rooting or installing Froyo
2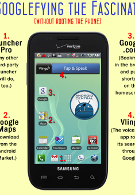 reported
that the Android 2.2 upgrade for the Samsung Fascinate will restore Google functionality to the phone with the means of a simple download of the Google Search app.If you can't wait for the Froyo download to get your fill of Google, there is a way that you can re-create Google capabilities right now on your phone. Not that you have anything against Microsoft's search engine, but you are used to using Google, you want Google Maps and maybe you just think it's silly that Google's own open source OS comes sans Google. The good news is that with three free apps and one bookmark, you can have the Google name on the phone and a smile on your face.
The first recommended step is to install a new launcher to recreate the look of stock Android.. While not required, you can add Launcher Pro to your Fascinate. This is a free download from the Android Market. Step two is an easy one. From the Android Market, download Google Maps. Do not run the program from within the Market. This step undoes the damage Verizon when they made the deal with Microsoft to place Bing and Bing Maps on the Fascinate, excluding Google's products.
Right now, all of your searches on the handset are going through Bing. The Google Search widget also disappears when you are using the TouchWiz launcher. When you have a third party launcher on the Fascinate, the Widget reappears even though everything is still routed through Bing. To get a home screen link to Google, go to Google.com and bookmark the page on the browser. Then, create a shortcut to that bookmark on your home screen.
Last step is recreating Google Voice Search. Vlingo's voice search program is routed through...Google! Download the app for free from the Android Market and you will have brought Google search, Voice Search and Maps on to your Fascinate. While not a perfect solution, it takes only a few minutes and is free. Of course, you can decide just to stick with Bing and just forget the whole thing! Check out the video below to see all of the steps.
Samsung Fascinate Specifications
|
Review
source:
AndroidCentral