How to get the Nexus 6's Ambient Notifications feature on the Nexus 5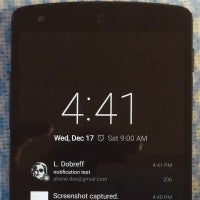 The Nexus 5 might be getting
rarer and harder to find these days
, but we figure this only adds to the appreciation one has to have for one of the most customizable, tweak-encouraging, and up to date smartphones out there.
If you're still holding onto your Google-y apparatus, you can trick it out with a feature from its big-bottomed successor, the Nexus 6. We're talking about Ambient Display notifications, which enables your phone to show new notifications as they come - right on your lock screen..
a rooted Nexus 5 running Android 5.0 Lollipop
, and
a custom recovery
to flash the Ambient Display mod. If you have both armed and ready,
download this .zip file straight to your Nexus 5
. Either click/tap through, or use the QR code to the right.
Now, turn the Nexus 5 off. Then press and hold the volume down and power buttons simultaneously, and you'll reach the bootloader menu. Press the volume down button twice until you see a big, red, glowing "Recovery mode" option. Then, press the power button to enter. Now, use the Install button menu of your recovery tool - in this case, it's ClockWork recovery - to navigate to the folder you put the flashable .zip in, select and flash the .zip file. The final step is to reboot the phone.


If everything went where we wanted it to, and it should have, the Ambient Display option will be waiting for you inside the Settings, Display menu. It is enabled by default, though, so you can carry on and happily get your notifications on your lock screen. Although your display will look like an old timey movie when notifications show up, it will return to its normal, colorful self once you start interacting with them.