How to get a one-handed mode on any rooted Android device
13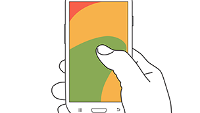 With smartphones transforming into more and more potent computing devices, it makes sense that we want larger screens than before. After all, a 3-inch display will hardly allow you to be very productive -- items are too small, and your fingers are just too big. This has caused some serious growth in device's dimensions, with 5-inches now being something of an average across the industry. And while those larger screens definitely come in handy, they can also be quite frustrating to handle with one hand, whenever you just need to perform an operation quickly -- like calling your mom. God forbid you need to reach for the status bar to pull down the notification panel.
In other words, it's safe to say that features, such as the special one-handed mode available with the 6-inch LG G Pro 2, comes in handy. Unfortunately, such perks are still far from the norm with manufacturers, and it's very likely that your phone doesn't have such a mode. Well, today, we'll show you how to mod just about any device with Android 4.0+ and get a one-handed mode, and it's quite straightforward, too. As you can guess, you'll need to be rooted in order to install the
Xposed framework
-- a wonderful platform that allows all kinds of customization of Android -- and then use its app to download a specific module. Sounds simple enough? It is.