How to change your Android phone's default browser to Google Chrome
6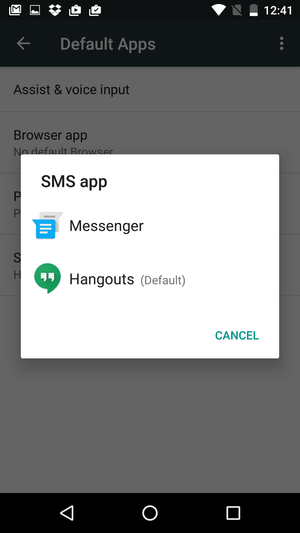 Default app swap Marshmallow
Manufacturers love to place their own takes on browsing on our phones, and make them the default ones to open links from third-party apps with. If your phone's stock browser is not up to snuff with the latest and greatest Google Chrome, or other mobile browser, this can get really annoying, as every time you tap on, say, a news entry from the Google News widget, it will open with your phone's dreaded stock browser, instead of in Chrome.
That's fine if you have Samsung's ultrafast rendering engine, but not all makers are paying as much attention to the default browser, or you may simply want to use Chrome with all your synced settings and bookmarks from your desktop, for instance. Here's what you need to do, if you want to change the default browser on your Android phone or tablet, so that links open in, say, Chrome, instead of some ill-conceived third-party abomination:
Android 6.0 Marshmallow
1. With Marshmallow, Google has made it very easy to change the defaults for your most used application like the browser, dialer, messaging or assistant apps - just go to Settings>Apps>Default Apps, and swap to your heart's desire.
Android 5.1 Lollipop and below
Those of us who still don't have Marshmallow on their devices, will have to do a bit of app settings' kung-fu to swap the default browser:
1. Go to Settings>Application>All apps, and scroll until you find your preinstalled default browser (usually called, surprise, surprise... Browser);
2. Tap on the Browser icon and enter the App info screen, scroll down and use the buttons "Clear cache" and "Clear data" to dispose of all the info that may be associated with this browser;
3. Scroll down a bit, and tap on the "Clear defaults" button in the Launch by default section;
4. Now, when you click on a link in a third-party app, it will ask you which browser do you want it opened with by default - choose Google Chrome.
Thus, your choice of the new default browser will be remembered, and used the next time a link needs to launch - it will open directly in Chrome. Oh, the joy.