How to capture a scrolling screenshot on the Samsung Galaxy Note5
11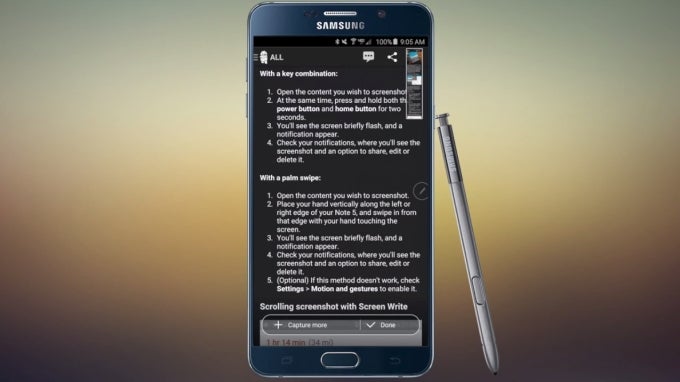 If you've ever wanted to take a screenshot on your Android device of a scrolling page, such as this PhoneArena article, you've probably faced the limitation that Android can only capture a screenshot of what's currently displayed on screen. The same limitation is true for when you want to take a screenshot of a scrolling app.
If you just happen to own a
Samsung Galaxy Note5
, then you shouldn't worry about this, as the Galaxy Note5 comes with a pretty sweet scrolling screenshot option.
Here's what you need to do in order to take a scrolling screenshot on your Samsung Galaxy Note 5:
Step 1.
Go to the web page or scrolling app that you want to take a screenshot of.
Step 2.
Take out the S Pen. You'll need it for this power-user function.
Step 3.
Hover over the screen to launch Air Command, then tap
Screen Write
.
Step 4.
After the screen flashes to let you know that a screenshot has been captured, tap
Scroll capture
in the bottom-left corner. The screen will scroll a little.
Step 5.
At this point, you can either scroll the page even further by selecting
Capture
more
, or end the process here by selecting Done.
Step 6.
When you've captured everything that's of interest to you, there are three options to consider:
Share
,
Save in Gallery
or
Save in Scrapbook
. Choose the one that better suits your needs.
Note:
When you put the S Pen back in its holster, make sure to insert with the tip forward. Inserting the S Pen the other way around will make it jam, and force-removing it
will permanently damage the phone
.
There you have it! In just 6 dead simple steps, you have captured a scrolling screenshot on the Samsung Galaxy Note5.