How to boot Android 4.1+ into Safe Mode
12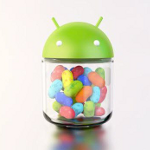 One of the lesser known, but potentially very useful new features in Android 4.1 and higher (aka Jelly Bean), is the option to boot your device into Safe Mode. This is a power-user feature which can help you to get rid of rogue apps and troubleshoot issues. Getting into Safe Mode is relatively easy, although the method can vary depending on what device you have and how the UI is set up.
If your UI doesn't deal with the power off options like this, or if you have an older device (which has somehow been updated to Jelly Bean), you can reboot and then hold the volume up and volume down buttons at the same time to enter Safe Mode. When in Safe Mode, the words "Safe Mode" will show at the bottom of the screen.
Safe Mode will cause your device to boot up, and load only the Android system, no 3rd-party apps. So, if you've had an app that is causing lots of troubles, this could make it much easier to remove the app. And, if you're having issues with your device this could also help figure out if the issue is due to a 3rd-party app or not.