How to automatically shorten URLs with ShortPaste for Android
3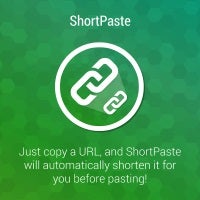 Simple problems demand simple solutions, and Android developers are happy to oblige. Say your daily work with your smartphone or tablet involves a lot of juggling URLs left and right, copying and pasting them in emails, messages, documents, and social networks. In such cases, using an URL shortener is the way to go - unless you are OK with web addresses taking one line or more from your message.
But imagine you had to send several links one after another in the same message, or heck, in individual messages. Condensing each URL through a shortener like bit.ly or goo.gl for brevity is a task than can move from mildly annoying to a laborous, frustrating task-switching, copy-pasting ordeal in the course of a day. The process is crying to be automated, which is where ShortPaste comes to your aid.
ShortPaste runs quietly in your Android device's system background and monitors the clipboard for URLs. When you copy an URL, ShortPaste instantly converts it to a shortened address that becomes readily available for pasting. What a godsend!
Download the app
from Google Play (it's free) and let us help you set up this helpful assistant.
1. Open ShortPaste after installation.
The app's main screen gives you access to an archive of shortened URLs, a Settings panel, and the option to choose your preferred URL shortener, which can be either bit.ly or goo.gl. Just tap on the "Powered by" drop menu.
2. The next step is to head to the Settings panel.
Tap the 'gear' icon and you'll be presented with a list of options. Activate 'Start on boot' to get ShortPaste to load with Android - that's pretty much a no-brainer. Activating 'Trim header' lets you automatically shave off the 'http://' part of a shortened URL if you would like that for some reason. You can also input a bit.ly custom username if you wish.
3. We're almost done!
It's time to auto-shorten some URLs! As you swing concise web addresses left and right like nobody's business, ShortPaste's 'Archive' gets filled with them and lets you easily copy them anytime.
ShortPaste still needs some work on better optimization and tools for managing entries in the archive, but the core functionality is in there, and it rocks. Happy auto-shortening!
Like this? Check out more of our how-tos: