How often do you use the S Pen stylus of your Galaxy Note 3?
66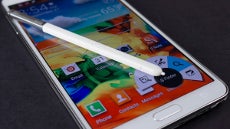 Samsung brought the stylus in vogue again, resurrecting something that used to be an indispensable part of smartphones way back in the WinMo era, before Steve Jobs wanted us to only use fingers with our smartphones.
With the
Galaxy Note 3
, Samsung improved significantly on the winning S Pen formula, by introducing better pressure sensitivity, new features, and centralized Air Command navigation wheel. In addition, there are now much more applications in the Play Store, tailored specifically to
take advantage of Samsung's S Pen stylus
.
The Note 3 has been out on the market for about six months now, that's why we want to probe its owners about the frequency of their S Pen stylus usage again. We are curious to learn whether the stylus is indeed an indispensable everyday tool, something that simply proves handy now and then, or is it mostly gathering dust in the silo. Checkmark your usage in the poll below, and share in the comments your personal experiences with the next iteration of the S Pen stylus.