Hotel in Vancouver equips guests staying there with iPhones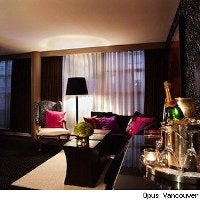 Who still relies on using landlines, right? With all the wonders found with the modern-day smartphone, more people are dropping the wired connections of yesterday, and instead, they're relying totally on their smartphone. Interestingly, it seems as though the movement is starting to creep its way into the
hotel business
.
Call it a first, the
Opus hotel in Vancouver, British Columbia
equip its staying guests with
iPhones
! Indeed, that's one sweet amenity thrown in with the stay, but it's actually a standard practice for the hotel. Obviously, the hotel hopes that international guests will take a liking to trotting around the beloved smartphone during their stay – both at the hotel and during their travels around the area.
In fact, the hotel allows its guest to bring along the smartphone during their trips around the area, where they'll be able to make local phone calls and surf the web. No doubt, it's the perfect companion seeing that it has a ton of function in making the trip worthwhile – like having the ability to look up local eateries, getting directions, reviews on certain tourist spots, and much more. However, if guests choose to make
international phone calls
, the charges are simply billed to their account on file.
For those concerned about
privacy
, it's worth noting that the iPhones are
wiped
to ensure that nothing remains on the handset, which is then ready for operation for the next guest obviously. Well folks, this isn't the first time we're hearing about guests being equipped with gadgets during their stay, as the
Plaza Hotel in New York offers its guests with iPads to control their room
.
via
TUAW