High-end iPhone 6 models expected to use sapphire displays as Apple invests $700 million in synthetic sapphire production
34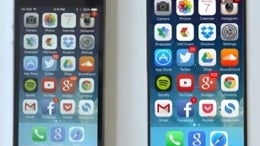 One of the novelties that Apple's
iPhone 6
is most likely going to include is
a sapphire display
. We heard about this plenty of times before.
Now, The Wall Street Journal reports that Apple is investing about $700 million to make sure it will have enough sapphire screens for its next generation smartphone. Even so, just as
previously rumored
, some iPhone 6 models may not use the new (and tough) material.
According to The Wall Street Journal, Apple is planning to use sapphire displays in "more expensive" versions of the two new iPhone models that should debut this September (a 4.7-inch, and a 5.5-inch model). This means that both the 4.7-inch and 5.5-inch iPhone 6 may have cheaper versions with screens that don't utilize sapphire.
Earlier this year, Apple bought a manufacturing plant in Mesa, Arzona, where
one of its partners
(GT Advanced Technologies) is expected to start mass-producing synthetic sapphire displays this month. The WSJ quotes an analyst at French research firm Yole Développement, who reportedly said that, at full capacity, Apple's plant could produce twice as much synthetic sapphire than all of the world's nearly 100 sapphire manufacturers combined. It's been estimated that a single sapphire display panel costs around $16 - way higher than a display using Corning's Gorilla Glass (about $3). This led analysts to believe that Apple may charge extra for its sapphire iPhones. At the same time, the Cupertino company might not beef up prices, as using sapphire will likely lead to fewer broken screens, and less money spent on warranty costs.
Some manufacturers that are significantly smaller than Apple are already offering phones with sapphire displays. Earlier this month, Kyocera launched the
Brigadier
, a rugged smartphone that's the first in the US to feature
a sapphire screen
. But the Brigadier is available only via Verizon Wireless, and it's a niche device.
Apple could announce the iPhone 6 in early or mid-September - so we'll likely find out all the official details regarding the new handset in about a month.
source:
The Wall Street Journal
(registration required)