Hey, Japan, longing for a flip iPhone? Here's what it may look like
16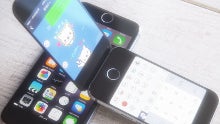 The 3D rendering genius of Martin Hajek is at it again, this time getting high on, well, something, and imagining the iPhone in a flip phone format. Flips are still the rage in Japan and some other Asian countries, and we are certain there are quite a few nostalgically-driven fans who remember the convenience of a flip handset.
From the unfolding to take a call, and have the lower half next to your lips, while the upper part reaches your ear - you know, like a real phone - to the reassuring click when you close it that tangibly marks the end of a call, flip phones have a certain aura about them that can't be recreated by today's large flat toasts.
Well, we bet some of you might have been wondering about how such a blasphemy - a foldable iPhone in a flip handset format - could look like, and graphics designer Martin Hajek has delivered on precisely such a vision. Take a peek in the rich slideshow below, and tell us what you think about the Hello Kitty reference thrown in.