Heroes of Order & Chaos coming to Android and iOS in October
2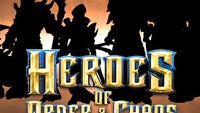 While there is still no
official World of Warcraft game
released on any mobile platform, there's more than a few Android and iPhone titles that mimic it pretty well, and Gameloft's Order & Chaos is arguably the best clone you can find. Their popular MMO RPG has been out for over a year now, and despite its $7 price tag, it has been downloaded well over 100,000 times.
Interestingly, Gameloft is working on a spin-off called Heroes of Order & Chaos. There won't be any quests to complete or dungeons to explore, however, for the upcoming title will be of a different genre. Have you ever played DotA? Yeah, that is what Heroes of Order & Chaos will be like – two teams in opposite corners of the map trying to destroy each other's base. As is tradition, the two teams' bases will be connected by three roads with a river in the middle.
Heroes of Order & Chaos will be free to play will feature 30 different characters at launch. Only six of them will be available at a given time, however, and each week the lineup will be rotated. Nevertheless, having access to the rest of the gang will be possible after an in-app purchase. The game will feature singleplayer campaigns, but the real fun will be online, where teams of three to five players can battle each other on the virtual arena.
In case Heroes of Order & Chaos sparks your curiosity, mark October 11 in your calendar for that is when the game is scheduled for release. The game will be available on iOS and Android.
Recommended Stories