Here's the scary wear and tear on a leather LG G4 after 2 months of use
53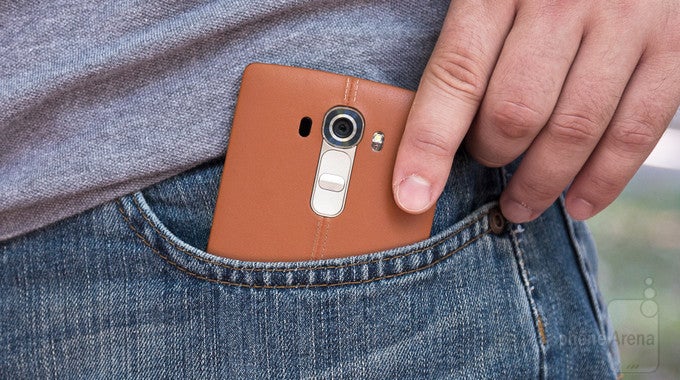 For a smartphone to be regarded as well designed, it must excel in three key categories. Firstly, it must look good – it must please the user's eye and must stand out visually in a crowded phone market. Secondly, it must feel comfortable in the hand – it must not be slippery or awkward to hold. And thirdly, it must be durable – it must prove itself as an investment that can withstand the tests of time. The
LG G4
meets the first two criteria, that we can confirm. But how does it and its leather back fare in terms of durability?
That's not the kind of question we can answer as soon as a phone – any phone – lands in our hands for review. After all, a handset's resilience should be evaluated after the phone in question has been in regular use for some time. But we're pretty sure we have that requirement covered already. Our LG G4 has been serving as a daily driver for about 2 months now, and the signs of wear and tear on its leather back have grown quite obvious.
For the record, our observations are based on our experience with a brown genuine leather back for the LG G4. This particular cover has a rather smooth surface treated to a very subtle texture, unlike other color variants, which have a more pronounced texture (see the
official LG G4 images here
). The durability of the latter cover variants might differ, as we're about to see in a bit. With this out of the way, here's what our LG G4's back looks like today, after 2 months of every-day use.
One important fact we must highlight is that our LG G4 has been treated with great care. It has never been dropped, and you'd usually find it resting on a soft piece of cloth on a desk at the office. Yet the four corners of the leather back are clearly worn out, most likely due to the phone rubbing against the inside of pockets it has been in. Another sign of wear is the change in color of the stitching running down the cover's middle. The thread is now darker, having gotten dirty over time. Also, stains of unclear origin can be seen here and there, most noticeably around the speaker.
Still, it turns out that our LG G4's leather back is holding up pretty well compared to others' – a quick search on the web returns photos of much more worn out leather covers. The first four images below, courtesy of Android Central, show two LG G4 backs that are definitely in worse shape. (Guess which one of the two landed from shoulder height on a brick patio.) And it isn't like they've been in use longer than ours. Yet the signs of wear are clear to see, especially near the edges and corners of the cover.
Interestingly, both these LG G4s come paired with a brown leather back, as is the case with our unit. Other LG G4 back covers, however, might be less susceptible to damage. Several members of the Android Central forums have shared their black G4 backs (photos 5 to 8 below) looking as new after 3 to 4 weeks of use. Besides the color, the difference between the brown and black covers is the texture – the former has a smoother finish, while the latter has a more pronounced, and seemingly more rugged, texture.
How is your LG G4 holding up? If you'd like to share photos, feel free to do so via our
Tip Us
form.