Here's the amount of data used by the average U.S. subscriber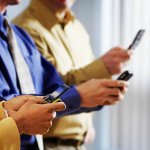 We all know that mobile data usage is skyrocketing these days, but haven't you wondered exactly how much data gets consumed by a customer on average? Well, thanks to a Nielsen report, we now know the answer. And it's 42.
No, just kidding. According to Nielsen's survey, based on over 65,000 users, the average U.S. subscriber is using about 450 MB of data per month, with this number representing data usage for the first quarter of this year. It's not a small number, but not that high either. Still, things are no doubt progressing rapidly, as in Q1 of 2011, mobile users have consumed just 208 MB on average per month.
It should be noted that this survey doesn't separate smartphone from feature phone users, though. But with the super-high smartphone penetration in the U.S., feature phones will be playing a smaller and smaller role in the future. On the other hand we can imagine that the average PhoneArena user consumers significantly more than the said 450 MB. What do you think? How much data do you typically use each month?