Here's how to easily install the new Galaxy S8 launcher on your Galaxy S7/S7 edge (Nougat)
6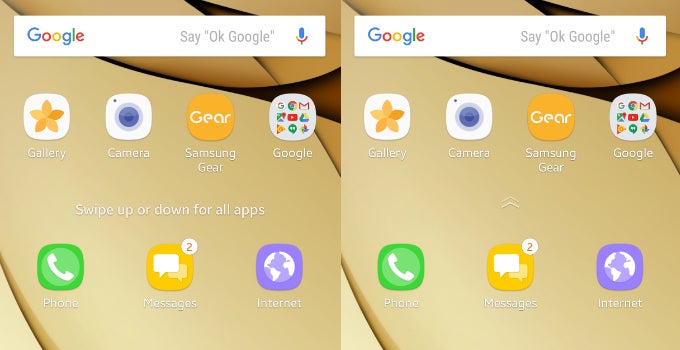 If you own a
Galaxy S7
and want to get a taste of the flashy new
Galaxy S8
/
S8+
on your phone, well, we've got good news for you! You can download and install Samsung's new launcher on your
Galaxy S7
or
S7 edge
right now, no root required, provided that you have updated your device to Nougat.
The new S8 launcher is not wildly different from the one found on the S7, but it offers a handful of new features that you might find yourself quickly growing used to. One such feature is the a la Pixel pull-up drawer, which we like a lot better than the standard tap-button-to-open affair, if only for the ease of use (in fact, you can swipe up or down from anywhere on the home screen to open the drawer).
And the best part is that you can try out the new launcher right now on your Galaxy S7 running Nougat! There's no need to root your phone, or anything of the sort, and it only takes a minute if you follow the simple steps outlined below!
First thing you'll need to do is download the .apk file from one of the links below (courtesy of XDA user
takerhbk
) either directly on your S7, or on your PC and transfer it to your phone. If you get a
"Can't open file"
error when installing the app, just download the second file and it will work.
Now that you've downloaded the .apk file, all there's left to do is install it on your S7. To do so, you'll have to either tap the download notification, if you are doing this from your phone, or find the .apk file through "My Files", if you transferred it onto your device from your PC.
Once you do this, you'll be prompted to enable installing apps from unknown sources. You can do so by tapping "Settings" in the pop-up box and switching on the "Unknown sources" toggle. A dialog box will appear that will let you choose whether to keep the option enabled or use it for this installation only.
The app will install as an update to the existing TouchWiz Home. Once the process is complete, just press the home button and you should be taken to your new home screen. If the launcher crashes, just go to "Settings" > "Applications" > "TouchWiz Home" > "Storage" and clear data and cache and you're all set!
If you don't like the new TouchWiz launcher, you can easily uninstall it by going to "TouchWiz Home" in "Applications", tapping the three-dot menu at the top right corner of the screen, and selecting "Uninstall updates". This will remove the new version of the launcher from your device.
Note: The new version of TouchWiz Home only works on devices running Android Nougat.
If you want to give your Samsung phone the complete S8 makeover, don't miss on these stories: