Here's a beer glass designed to keep you from staring at your phone
18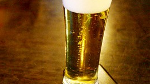 Are you the guy that spends his time at the bar staring at his phone, missing out on human connection? Are your buddies upset with you because instead of following their conversation, you're following Instagram? Salve Jorge Bar in Sao Paolo, Brazil has the solution. The bar offers the Offline Glass. This is a
beer glass
created by advertising agency Fischer & Friends.
The Offline Glass is supposed to "
rescue people from the online world
," saving them from slipping away to a world of texts,
Words With Friends
and
Angry Birds
from which they will never come back. By cutting the bottom of the glass so it will only stand up when placed on top of a smartphone, patrons of the bar staring at their phone have two choices. They can continue staring at their phone and have their frosty cold beverage spill all over the table. Or, they can use their smartphone to prop up the glass and keep it from tipping over. And if you're wondering about beer dripping down the side and destroying your phone, those behind it say that it is cut in a way to prevent condensation from dripping down the side of the glass when it is resting on your handset.
This is the sort of thing that might catch on at other bars and restaurants. Imagine forcing people to put down their smartphones to engage in a conversation with someone right in front of them. Why, it's blasphemy!
source:
Telegraph
,
Vimeo
via
Gizmodo